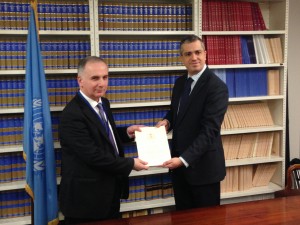 Georgia 20th State to ratify Kampala Amendments: On 5 December 2014, Gocha Lordkipanidze, Deputy Minister of Justice of Georgia deposited his country's instrument of ratification of the Kampala Amendments. The Eastern European region continues its leadership role in the ratification of the Kampala Amendments: 7 of the 18 Eastern European States Parties have now ratified the amendments, with the remainder having pledged to do so soon. With this 20th ratification, our campaign has reached the two-thirds point towards the goal of achieving 30 ratifications by the end of 2015, and thus allowing for the activation of the amendments in early 2017.
Speaking at the ratification ceremony, Deputy Minister of Justice of  Lordkipanidze said, "depositing the instrument of ratification is our contribution to setting stage for what the UN Secretary-General called 'paradigm shift in international law and international relations.' It constitutes a major effort by Georgia to build a global culture of individual criminal accountability for the commission of the crime of aggression through strengthening the ICC's jurisdiction and facilitating the timely activation of the Kampala Amendments."
At least one further ratification is expected during the course of the Assembly of States Parties, which starts on Monday, 8 December 2014. Follow our twitter feed @CrimeAggression for the latest updates.